About Runo
Thank you for your visit.
My name is Runo. It's my handle (online name).
When I was a teenager, I liked to make clothes for girl dolls and Kewpies.
I saw some books by dollmakers --- Kyoko Yoneyama, Sumiko Hirai and Tomoyuki Kikuchi.
And I started to make cloth dolls.
Merry is the seventh doll I ever made.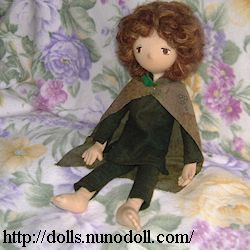 And I had a long blank.
I began to make dolls in my own way in 1998.
I got a hint about Boy Dolls from comics (manga), anime and video games.
It's not that I like anime and game. I don't see any anime movie.
Whom do I love as manga artist? Recently I collect the works of Hiroshi Masumura.
Yoshitaka Amano, he is a great artist. I have been heavily inspired.
I saw a book of Chizuko Nabeshima, and felt an interest in stuffed animals.
Since 2004, I've made various stuffed toys.
Now I think stuffed cat is worth investing most.

So I have not made dolls recently.
I liked Kenzo, Helmut Lang and Raf Simons a little.
A person whose face I like is Takeshi Kaneshiro (but I haven't seen him in cinemas).
Musicians I loved are Syd Barrett, Kevin Ayers and Larry Wallis.
The various favorites may influence my dolls.
I'm interested in underwear sewing.
If you are so, please visit Hanty Panty. There are handmade pants and soft brassiere.
And Cute Underwear Making (for men), in which you can make handmade undergarments.
I'm very shy. I'm not good at English. I don't like to write email.
I hope you let me be.