Guest Dolls
Thank you for sending wonderful dolls picture.
---
Doll of Silvia from Italy.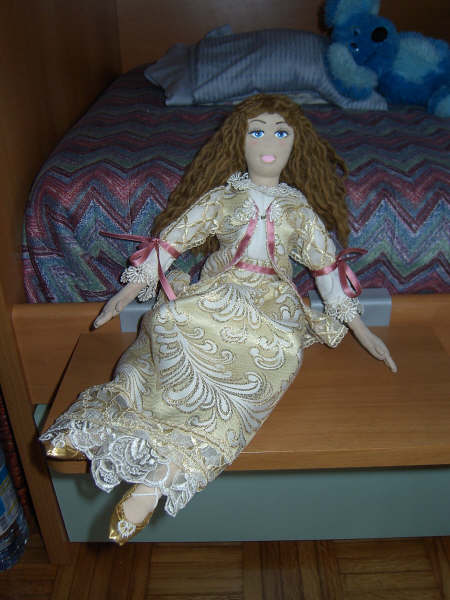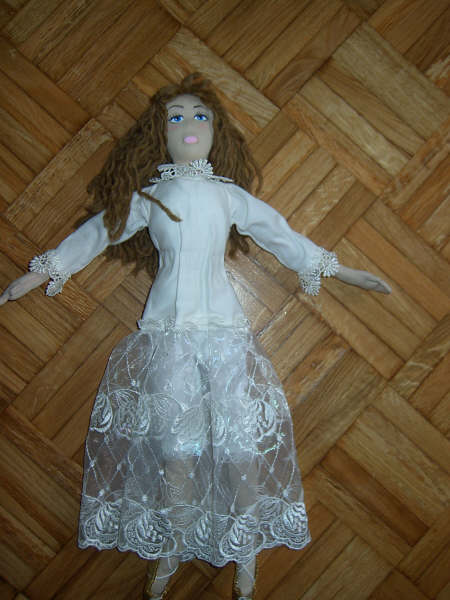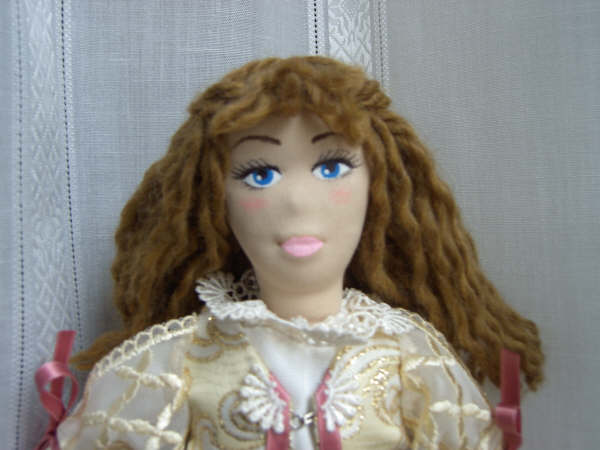 ---
Paper dolls by joca.
"I used your pattern to do a sculpture paper doll."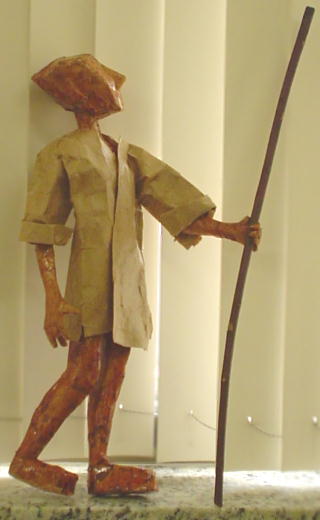 ---
28 cm cute doll by Maria Pia.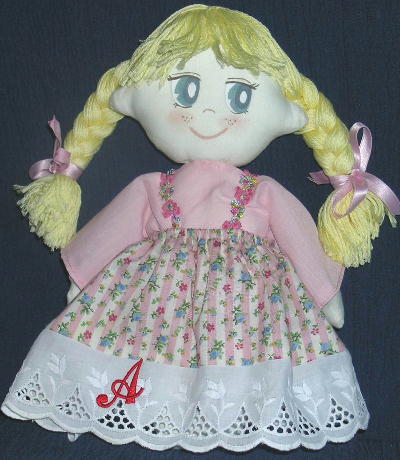 "A friends of mine needed a doll for her child who needed a doll with blonde plait and blue eye, called Anna for her therapy.
I choose "mini doll pattern" and I made Anna but a little bit higher, 28cm.
I make eye like Japan cartoon."
---
Life-size dolls by Trish from USA.
"Yvette (made with the help of Runo's pattern ideas) and my Andre' (made 15 years ago).
I originally made him for my niece when she asked for a man for Christmas."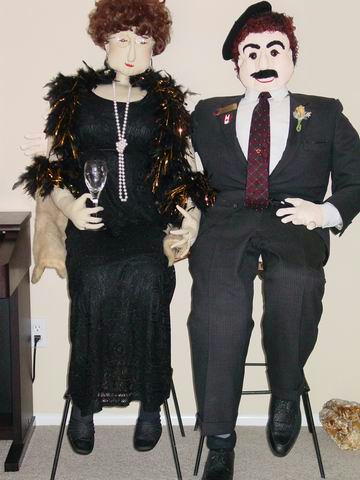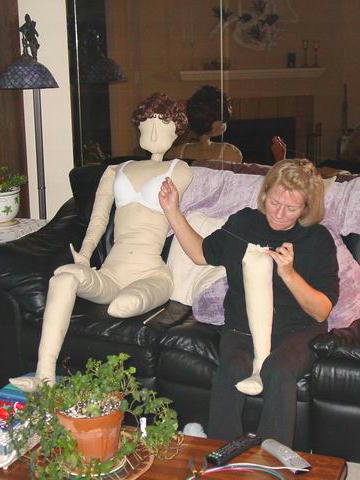 "I'm in the process of making the Big Boy and Big Girl. Only, I like making my dolls Life-Size."
---
Inuyasha and Kouga by Trish (USA) --- Another Trish!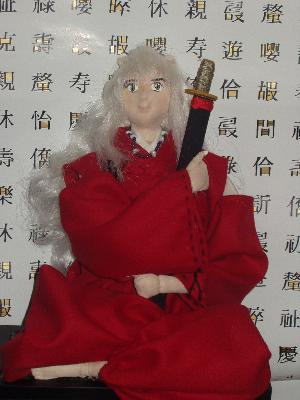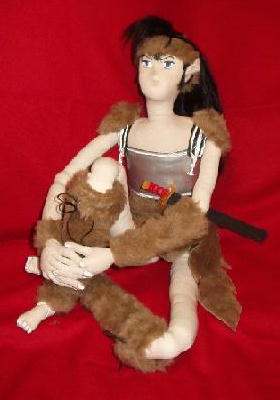 "I must make a 3-D art project for a university sculpture class.
I will make your Inu-Yasha design."
---
Dressed bears by Linda and Tanya (Australia).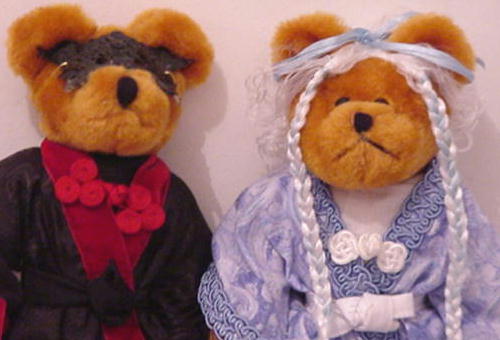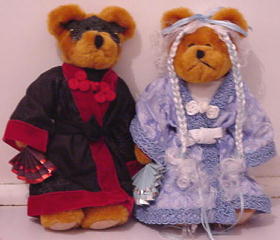 "A girlfriend and I dressed up these bears in kimono's for prizes for an L5R card competition."
---
By Reoestarion from Japan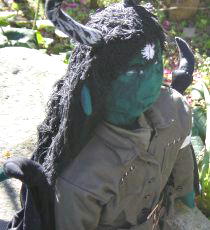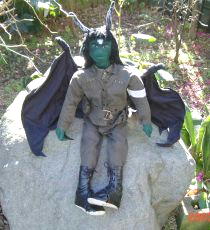 His name is SUTERURRA. (stlla).
He is a dragon and a professor of astronomy.
This doll is washable. Moreover, all clothes can be detached and re-dressed.
---
Anime dolls by Emily.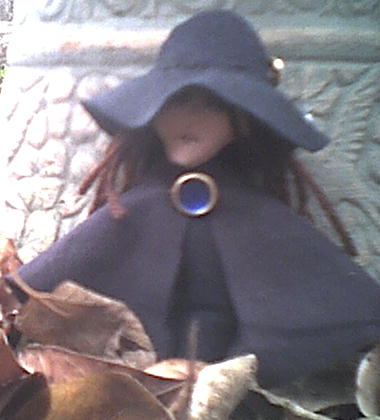 Vampire Hunter D, made following Anime dolls.
He is about 14cm high without the hat.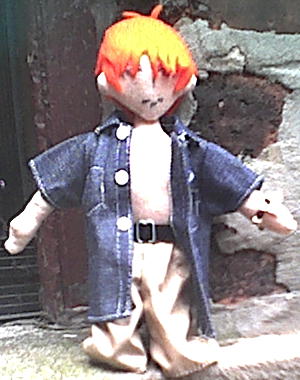 Souma Kyo from the anime Fruits Basket.
"He is a little bigger (about 17cm) and I made him by adapting your Rurouni Kenshin doll."
---
Kimono doll by Elisa from Italy.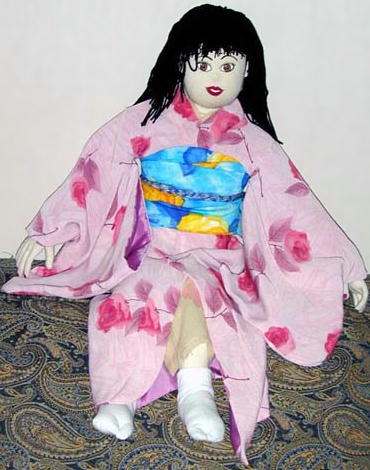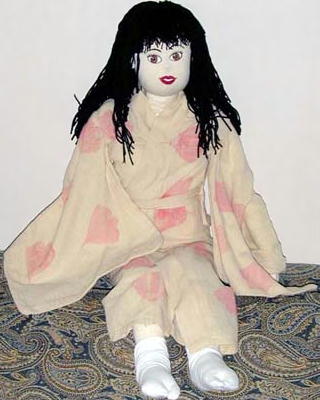 I made her using Doku pattern. Her name is Tami, she's 68cm (27 inch) tall.
Remark: the under-kimono was hand printed by me using Ginko leaf.
--- Comments by Elisa.
'Ginko' or 'gingko' is maidenhair tree. It's Japanesque pattern.
---
Jodie's fairy doll.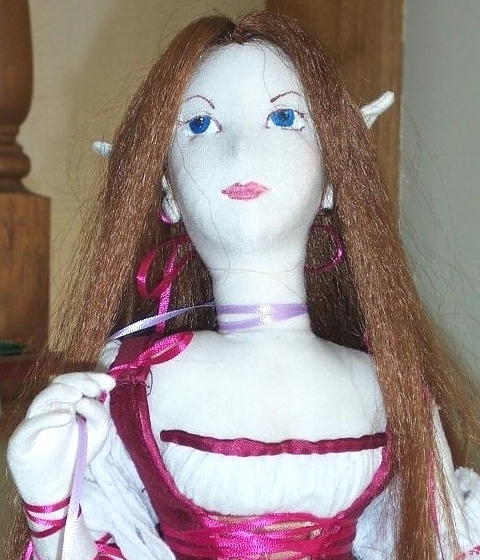 Comment of Jodie.
She was made using the Tall boy pattern and giving it a sex change.
The waist was pulled in just a bit, breasts where added.
I wanted a softer bust than was used on the mermaid.
I did this by making an extra torso cover, putting in balls of stuffing and stitching around to give the shape and hold in place.
Then the second was put over and a stitch taken in the front.
They worked very well.
I also used a wire armature in the entire doll to allow me to pose her in different positions
(and have yet to change from the original pose! oh, well, it was good practice.)
I also altered the basic ear pattern to create the pointed ear and use a bit of wrapped wire to be able to postion it.
---
Ann's character doll.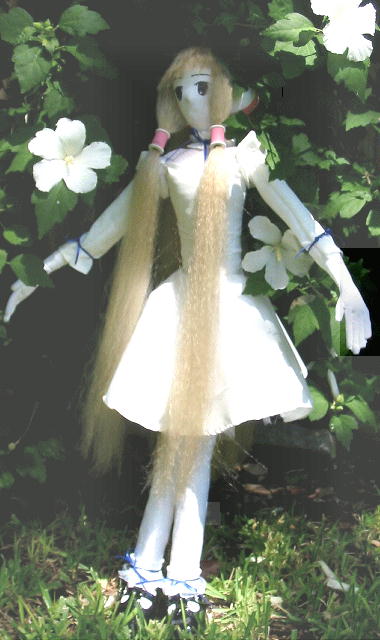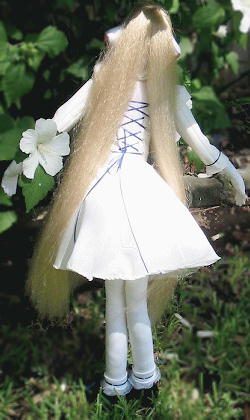 "My Boyfriend loves anime and this character in particular.
So I made him this doll to carry around at an upcoming Anime-Con." wrote Ann.
This doll was constructed using Kimono Girl Pattern.
---
Girl doll from Clau.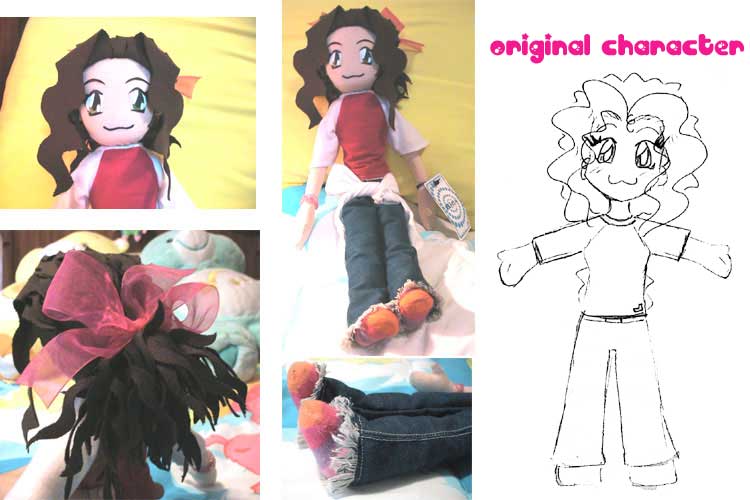 She's 17" tall. She's a deformed version of me =P
And the image i used as a reference is the one i included on the set. (wrote Clau)
---
Jennee's homemade dolls.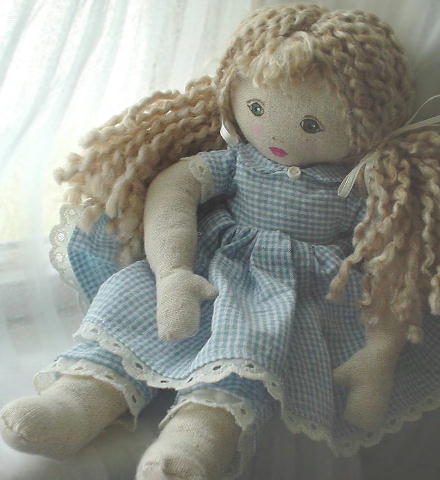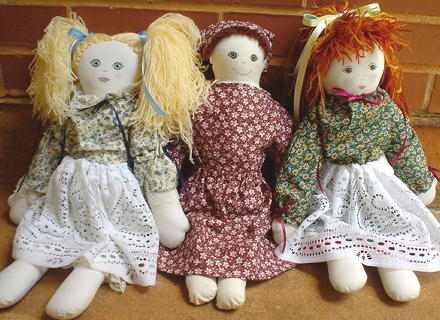 ---
---
Boy Dolls / Anime dolls / Life size dolls / Nekomimi dolls / Mermaid Fantasy / Stuffed animals / Cloth Doll Making / Nuno Life / Privacy policy